"Ueshiba Sensei of Aiki-jutsu is the greatest Budo master alive"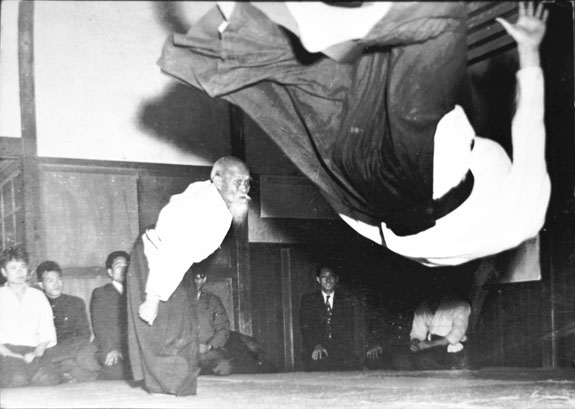 Hiroshi Tada, 6th Dan, being thrown by Aikido Founder Morihei Ueshiba O-Sensei (1958)
Hiroshi Tada was born in Nagasaki Prefecture, Japan December 13th 1929. He began training at Aikikai Hombu Dojo on March 4th 1950. He was sent to Rome, Italy in October 1964 and established a dojo in 1966. He was Instrumental in the growth and development of Aikido in Italy.

Until he left for Europe in 1964 he also studied breathing exercises and yoga with Tempu Nakamura, who is well known for his influence on Shin-Shin Toitsu Aikido (心身統一合氣道) Founder Koichi Tohei.

He also studied with the Ichikukai (一九会), which was founded to continue the teachings of Tesshu Yamaoka by his student Tetsuju Ogura. The "1-9" Group was named to memorialize the day of the month (the 19th) on which Tesshu died, and is famous for its rigourous Misogi training.

Hiroshi Tada later developed his own system of breathing and meditation exercises called Ki no Renma (気の練磨 / Cultivation of Ki) as a supplement to Aikido Training.

The following article is a translation of the Japanese article that originally appeared in "Aikido Tankyu" (合氣道探求 / Aikido Quest), a magazine published by the Aikikai Hombu Dojo.