Kisshomaru Ueshiba, Shigeo Tokunaga and the first public Aikikai demonstration.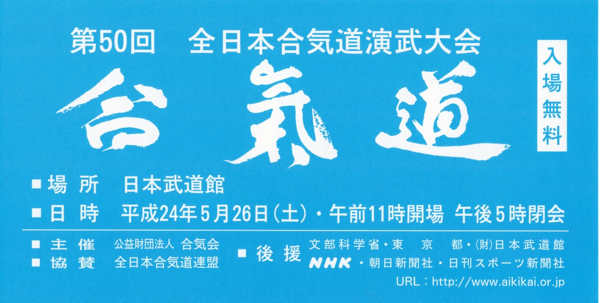 The 50th All Japan Aikido Demonstration
May 26th, 2012 marked the 50th All Japan Aikido Demonstration (第50回全日本合気道演武大会) in Tokyo, at the Nihon Budokan.

The All Japan is the biggest event of the year for Aikikai, and groups come from around Japan and around the world to attend. It is attended by thousands of spectators and demonstrators.

But did you know that much of the motivation for these huge Aikikai events was actually provided by the Yoshinkan?

At the end of the war the Wakamatsu-cho Aikikai dojo (the Kobukan Dojo before the war) was one of the few buildings still left standing after the bombing. Even so, the roof was badly damaged, many of the tatami mats were missing, and refugees were actually living in the dojo.

Morihei Ueshiba was living in Iwama and rarely came to Tokyo.